Car Key Duplication Service in Orlando area
If you're car key duplication service in Orlando, Y-S Locks & Keys is here to help you with all your automotive needs. Car key duplication, transponder key programming, new car keys, replacement car keys and more – we're your one-stop shop for all things Locksmithing!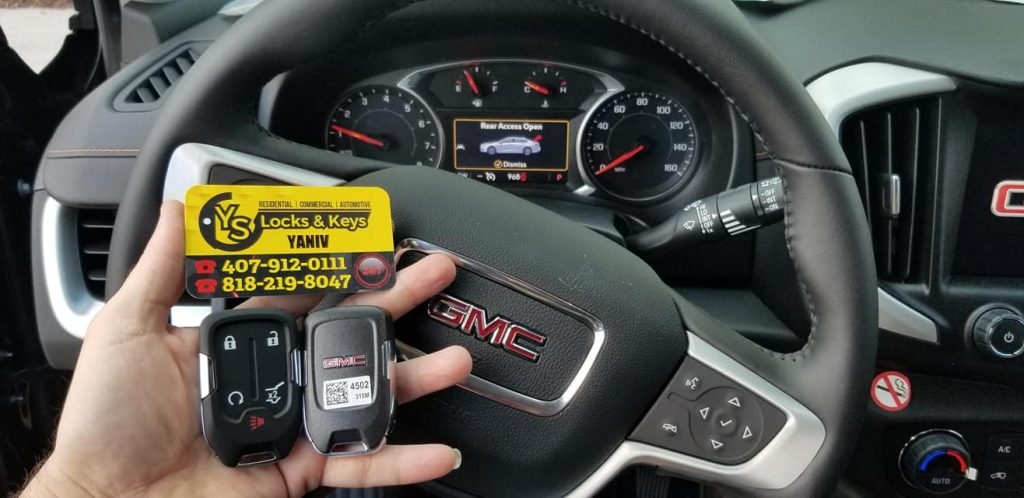 Fast and Affordable Car Key Duplication Service in Orlando

Have you lost a key or broken one using it in a lock? do you need a new key for a family member or a new employee? Y-S Locks & Keys offer a professional and affordable key duplication service in Orlando FL.
Whatever type of lock you have Y-S Locks & Keys know how to duplicate the key. fix it or replace it. This includes programming a chip key and creating master keys.
Our locksmith technicians are all professional and fully trained, and they are available 24 hours a day.
They carry all of the tools necessary to do key duplication on site, so are able to get new keys for your lock at your location. Whenever you need auto or moto key duplication you should call us. We will get your key cut quickly and at an affordable price.
Our Other Automotive Locksmith Services
Unlock Car Door
Transponder Key Programming
Fob Key
Key Cutting
Smart Key
Remote/Beeper/Clicker
Programming
Ignition Switch Install/Repair/Replacement/Rekey
Trunk Unlocking For Lost Keys
Auto Chip Key Programming
Keys to Classic Cars
Laser Cut Keys or Sidewinder Key Cutting
VAT Keys Made
Glove Box Lock Repair and Replacement
Fix Motorcycle Locks
Re-Key Lost Car Keys
Push To Start Keys
Broken Ignition Key Extraction
High Security Car Keys
Ignition Change
Car Key Duplication
Ignition Keys
Professional Car Key Duplication Service Orlando
We understand the frustration of breaking a key and being unable to open or secure your lock. We also understand the equally frustrating feeling of losing your keys. which can happen to anyone at any time. When these all-to-common things happen you don't have to let it affect your business or home routine as we can get you duplicate car keys that will work properly. they will be made to at least the same quality level as your original car keys.
We offer a quick and reliable  car key service and have been serving the local residential and business community. We are proud of the reputation for quality, reliability and reasonable prices that we have built up over the years. If you need a new or replacement key for your lock, we are your local car key duplication service provider in Orlando FL.
Every car model, every make!
Why Y-S Locks & Keys are best for car key duplication service ?
A few different businesses offer key duplication services near you, but you'll find that most are overpriced and charge additional fees for weekend or same-day service. If you can wait until Monday morning to pick up your keys, however, you might be able to save yourself a little money. Our Orlando car key duplicate provider is open 7 days a week (including major holidays), including Saturday afternoons and Sunday mornings, so there's no reason not to get your keys back as soon as possible. Additionally, we can copy virtually any type of car key in Orlando at a price that's lower than our competitors—and guaranteed not to include hidden fees!
Our 24 hour mobile locksmith process
What are some benefits of using our mobile locksmith in Orlando? If you've never used them before, there are many benefits to using our mobile locksmith in. First, we are convenient and flexible. This can be especially important if you're locked out late at night or need an emergency car lock repair service. Second, we save your money on both your initial investment and potential costs down the road when it comes to replacing a car key that is broken or worn out from too much use. Finally, if you don't want any part of having your existing car keys copied, simply bring us in and then pick up new ones once your work is complete!
As long as you can prove ownership of your vehicle a car key can be made with the Vehicle Identification Number aka VIN number. Once a key code is pulled from the VIN number a car key can be cut.
Y-S Locks & Keys will be able to make a replacement key for you even if you do not have the original. When you contact a Y-S Locks & Keys locksmith Orlando, you'll need to provide some information about the key, and then we will likely be able to help you replace it.
The typical cost to copy a basic key is up to $15. Chipped keys cost the most to copy, ranging from $50 to $600. Car models impact key-copying costs.
ALL JOBS ARE SUBJECT TO A SERVICE FEE BETWEEN 29$-69$